Award Winning £1 Comedy Night
Best Small Club at the 2018 Midlands Comedy Awards.

Best Open Mic Night at the 2016 Midlands Comedy Awards.

Best East Midlands Open Mic Night at the 2015 Midlands Comedy Awards.
Come see top acts practising their new material and support the up-and-coming acts as they start their careers. You never know who may become the next big star! All for just £1.
The £1 comedy night takes place at the Canalhouse Nottingham twice a month.
"My favourite night of the comedy calendar" - Notts Comedy Review
"NCF comedy is one of the finest supporters of emerging comedy talent in Nottingham" Ben Macpherson, Paria Theatre
"Definitely worth more than £1 - a mix of new and more established acts but always a good night out. Ridiculously cheap for such a fun night out with friends - much better than just spending another night sat in the pub." Minder Athwal (audience member)
"Absolutely brilliant night, great to see such comedic talent locally, better than many headline comedians and established comedy venues you pay much more for. Can't recommend it enough, great mid week laughter pick me up" Red (audience member, meet up group)

"Thank you to you guys for making comedy accessible to people who can't necessarily afford to pay lots of money that the big clubs charge, everyone deserves the gift of laughter in their lives" Red (audience member, meet up group)
Where: Canalhouse - 48 - 52 Canal Street, Nottingham, NG1 7EH
Doors: 7.30pm (Start: 8pm)
£1 Comedy Night's tend to sell out so it is recommended to book tickets in advance. Please do not phone the Canalhouse to book tickets. Tickets are only available via the links below.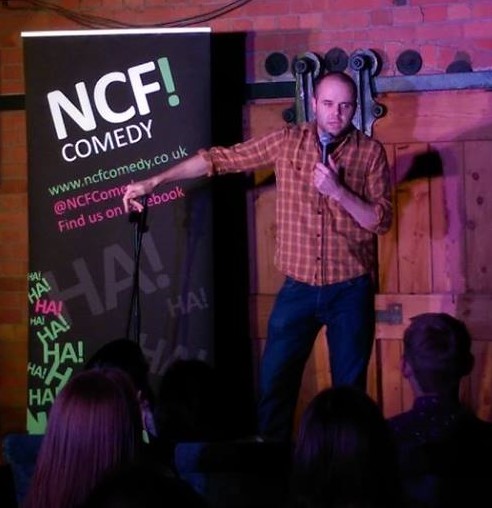 Next £1 Comedy Night:

IMPORTANT:
Due to the ongoing situation with the Coronavirus we have had to cancel all shows. We are monitoring the situation closely and as soon as it is safe to do so we will be back at the Canalhouse every 2nd and 4th Wednesday of the month.
Our ticket supplier is in the process of notifying and refunding everyone that has purchased a ticket.
WeGotTickets: The Event That Never Happened:

Help us through the Covid-19 crisis by buying tickets for #TheEventThatNeverHappened – an event that, you guessed it, will never happen!Buy as many tickets as you like at the prices below and your donation will be helping us survive this difficult period.WeGotTickets have been supporting grassroots and independent events for almost 20 years and hope to be able to do so for at least 20 more. By paying a small booking fee during this period of uncertainty you're helping to ensure they are here for your favourite venues and promoters after all this madness ends.'Tickets' for The Event That Never Happened are Donations made to the event organiser. Booking references generated for The Event That Never Happened Donations do not offer right of admission to any events and are non-refundable.Any money donated to NCF Comedy will be used to help shows continue in the future, we will also put donations towards the Nottingham Comedy Festival to ensure that can still go ahead this year.
ACTS:
We are open to all acts includiing professionals looking to try out new material, acts looking for progression or brand new acts. If you would like to take part in the £1 Comedy Night please fill in the form below: