Award Winning £1 Comedy Night
Every 2nd and 4th Wednesday of the month.
Come see top acts practising their new material and support the up-and-coming acts as they start their careers. You never know who may become the next big star!

Where: Canalhouse - 48 - 52 Canal Street, Nottingham, NG1 7EH

Doors: 7pm (Start: 7.30pm)
IMPORTANT:
Due to the ongoing situation with the Coronavirus we have had to change the way we do things at the Canalhouse.
To enable social distancing we are limiting the number of audience members and ask for people to sit in their household bubbles.
We have a small number of tickets available and are selling these as group tickets.
Large table - up to 6 people - £10
Small table - up to 2 people - £5
We have tried to keep the cost down as much as possible but hope you understand why we have had to change things. We hope to resume the £1 Comedy Nights back to how they were pre-lockdown in the near future but for now please do support us and book your tables.
Government Guidelines:
When attending a show:

Only attend with members of your household. (or support bubble)


Socially distance from people you do not live with (or who are not in your support bubble)


Wear a face covering when you are not eating or drinking.


Order your food and drinks via the venue's app (Canalhouse will be doing table service)


Remember to provide your details / scan the QR Code when you arrive for Track and Trace.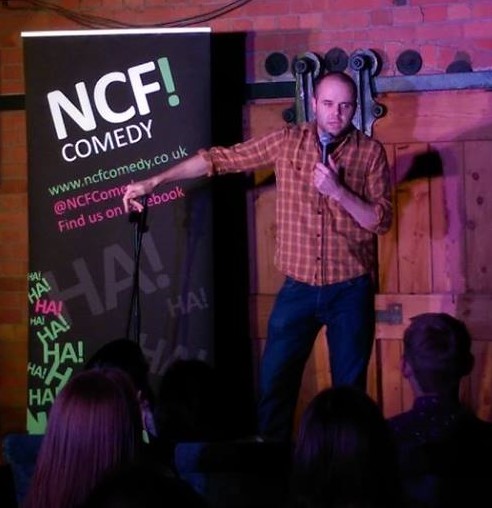 The £1 comedy night takes place at the Canalhouse Nottingham twice a month.
Next Shows:
The next few dates have been cancelled due to the Coronavirus Lockdown 2. We will announce new dates as soon shows are allowed to take place again.
NEW START TIME: 7.30pm*

£1 Comedy Night's tend to sell out so it is recommended to book tickets in advance.
Please do not phone the Canalhouse to book tickets. Tickets are only available via the links above.

*except when otherwise stated
Best Small Club at the 2018 Midlands Comedy Awards.
Best Open Mic Night at the 2016 Midlands Comedy Awards.
Best East Midlands Open Mic Night at the 2015 Midlands Comedy Awards.
"My favourite night of the comedy calendar" - Notts Comedy Review
"NCF comedy is one of the finest supporters of emerging comedy talent in Nottingham" Ben Macpherson, Paria Theatre
"Definitely worth more than £1 - a mix of new and more established acts but always a good night out. Ridiculously cheap for such a fun night out with friends - much better than just spending another night sat in the pub." Minder Athwal (audience member)
"Absolutely brilliant night, great to see such comedic talent locally, better than many headline comedians and established comedy venues you pay much more for. Can't recommend it enough, great mid week laughter pick me up" Red (audience member, meet up group)
"Thank you to you guys for making comedy accessible to people who can't necessarily afford to pay lots of money that the big clubs charge, everyone deserves the gift of laughter in their lives" Red (audience member, meet up group
ACTS:
We are open to all acts includiing professionals looking to try out new material, acts looking for progression or brand new acts. If you would like to take part in the £1 Comedy Night please fill in the form below: