Comedy All-Dayer - Loughborough POSTPONED
Swan In The Rushes Comedy All-Dayer, Loughborough POSTPONED
DUE TO COVID THIS SHOW HAS BEEN POSTPONED. NEW DATE TO BE ANNOUNCED SOON.


Featuring:

4pm: Kevin Precious
5.20pm: Ignacio Lopez

6.40pm: Adele Cliff
8pm: Dave Chawner
9.20pm: Eleanor Conway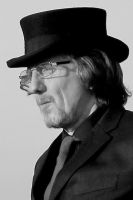 4pm: Kevin Precious: Teachers and Schools (Work-in-Progress)
Former Religious Studies Teacher turned stand-up comedian Kevin Precious turns his hand to examining his former profession, and takes a sideways look at the teaching and schools more generally. A work-in-progress show from a seasoned professional who previously toured the UK's theatres and arts centres with a show dedicated to precisely the same subject. 'Kevin's stage charisma and poise set him head and shoulders above the previous acts' (Times). 'Instantly recognisable stage presence and boundless wit' (Leicester Mercury at the Leicester Comedy Festival).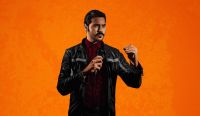 6.40pm: Ignacio Lopez
Ignacio was born in Mallorca to a Spanish father and a Welsh mother, he spent his summer holidays in rain soaked Swansea trying his best to fit in, learninf Welsh, stuffing his face with chips and underage drinking.

"Hilarious" - The Scotsman
"Charismatic with a waspish charm" Chortle
"Playfulm brutal and bloody funny" Moody Comedy
"Unique and hilarious" Buzz Magazine
"Filled the room with laughter, relevant and perceptive. An act not to be missed" Broadway Baby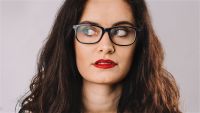 5.20pm: Adele Cliff: In The Dark (Work In Progress)
Adele Cliff brings her new show about the power of knowledge and the power in refusing it to the Brighton Fringe Festival. New jokes, new ideas and hopefully a new haircut.
Adele is the reigning UK Pun Champion (2020) has featured in Dave's Funniest Jokes of the Fringe four years running (2016, 2017, 2018, 2019). An accomplished joke writer she has also featured in best jokes lists in The Telegraph, The Evening Standard, The Irish Times, The i Newspaper and The Metro as well as being nominated for Leicestershire's Favourite Joke in 2019.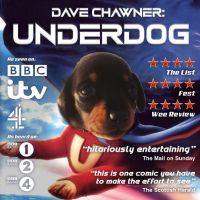 8pm: Dave Chawner

A timely show about dogs, defeat and determination by award-winning comedian, best-selling author, presenter and underdog Dave Chawner.
As seen on BBC, ITV and Channel 4.
As heard on Radio 1, Radio 2 and Radio 4.
"Hilariously entertaining" (Mail On Sunday)
★ ★ ★ ★ ★ (Arts Award Voice)
★ ★ ★ ★ ★ (Bunbury Magazine)
★ ★ ★ ★ (The List)
★ ★ ★ ★ (Edinburgh Festival Magazine)
★ ★ ★ ★ (Three Weeks)
★ ★ ★ ★ (Broadway Baby)
★ ★ ★ ★ (Wee Review)
★ ★ ★ ★ (Ed Fringe Review)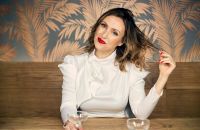 9.20pm: Eleanor Conway
Eleanor Conway is a multi award winning comedian does filthy, hilarious shows about sex, addiction and dating. She's sold out 3 tours worldwide with her shows 'Walk of Shame 1 & 2' and'You May Recognise Me From Tinder', her self produced debut tour selling out a 100 date, 10 country tour. You may recognise her from The Guardian, Woman's Hour, Stylist, Grazia, BBC 4 Extra and via her online videos about single life, dating and sex which have garnered her millions of views on TikTok growing her already loyal fanbase.
---
Date: Saturday 17th July 2021
Time: Starts: 4pm
Venue: Swan In The Rushes
Venue Address: 21 The Rushes, Loughborough LE11 5BE
Venue Website: https://www.castlerockbrewery.co.uk/pubs/swan-in-the-rushes/
Venue Phone Number: 01509 217014
Tickets: £5 (includes 2 x 1/2 pints of traditional ciders)

Tickets bought online may be subject to a small booking fee.
Artists appearing at all events may occasionally be subject to change due to circumstance beyond our control. Check this website for details.