Football Manager Therapy
Football Manager Therapy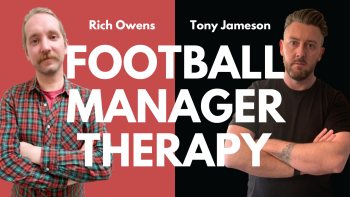 Tony Jameson (Football Manager Ruined My Life) and Rich Owens talk about their 25 year addiction to football management simulators. The two look to come to terms with the undying love of Registas, bolstering Freddy Adus digital CV and tell tales of leaving weddings to complete transfer deadline day. Tony and Rich aim to help you separate the pixelated sideline from the harsh chalk of reality.
---
Part of the Nottingham Comedy Festival
VENUE ADDRESS:
48 - 52 Canal Street, Nottingham, NG1 7EH
VENUE WEBSITE:
Canalhouse
DATE:
Monday 7th November 2022
TIME: 7pm (Doors open 6.50pm)
SHOW LENGTH: 1 Hour



Tickets bought online are subject to a small booking fee.
Late arrivals will not be guaranteed a seat.