Canalhouse Comedy Night: Edinburgh Preview Special
Canalhouse Comedy Night: Edinburgh Preview Special
2 fantastic acts bring their Edinburgh Fringe Preview shows to the Canalhouse. All for just £2 (donation bucket will be available on exit)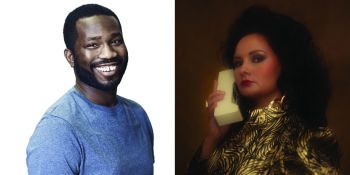 Kwame Asante - Living in Sin
The unachievable expectations of African Jesus! The unholy shame of premarital cohabitation! The unwavering healthcare professionals who dare to oppose the will of God! Edinburgh Comedy Award nominee and medical doctor Kwame Asante is living in sin, and has come to preach to the choir! In this new show, Kwame presents a hilarious, witty and heartfelt introspective on the place of religion in modern life, modern love and modern medicine. 'Calmly assured, impressive performance' - The Scotsman. 'Classy, laugh-out-loud stand-up' - Chortle.
Rachel Fairburn: Can I Be Awful?
Brassy, abrasive, rude, belligerent. The four horsemen of the apocalypse? No. They're all words that have been used to describe Rachel and she's proper sick of it now. She's also sick of being told to "be kind" by everyone from bearded hipster men to T-shirts. What's wrong with saying it how you see it? What really is kindness? Why is Rachel's "truth" not respected? Why are you all so annoying? Probably because nobody tells you that you are. Let Rachel change that.
"Huge presence in a pint-sized frame" ★★★★ Chortle
"Bright, brave and bitterly enjoyable" ★★★★ The Skinny
"Gag-heavy, opinionated and smart" ★★★★ Funny Women
---
VENUE: Canalhouse,
VENUE ADDRESS: 48 - 52 Canal Street, Nottingham, NG1 7EH
VENUE WEBSITE: Canalhouse
DATE: Wednesday 6th July 2022
TIME: 7.30pm (Doors open 7pm)
TICKETS: £2 per person


Tickets bought online are subject to a small booking fee
Tickets bought on the door may be subject to an additional fee