Yazzy Yaz & Nabz Pat: Brown and (un)Married
Yazzy Yaz & Nabz Pat: Brown and (un)Married
Part of the Leicester Comedy Festival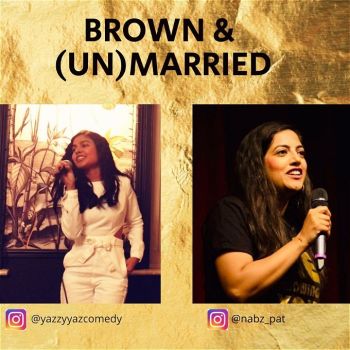 Yaz and Nabz are swapping candy for candid talk about life before and after the coveted prize of getting married. From the unavoidable aunties, rishtas and other desi ways of the south asian community.Expect some before and after pot shots at being British, Asian and living in the patriarchy. So all in all - a fun hour filled with blunt, brutal and honest storytelling. Please note: performance on the 6th is part of the Kayal All-dayer.
---
VENUE: Kayal
VENUE ADDRESS: 153 Granby St, Leicester LE1 6FE
DATE: Saturday 5th February 2022
TIME: 5.30pm (Doors open 4.50pm)
TICKETS: £8 (£7 concession)



Tickets bought online are subject to a small booking fee.
Late arrivals will not be guaranteed a seat.